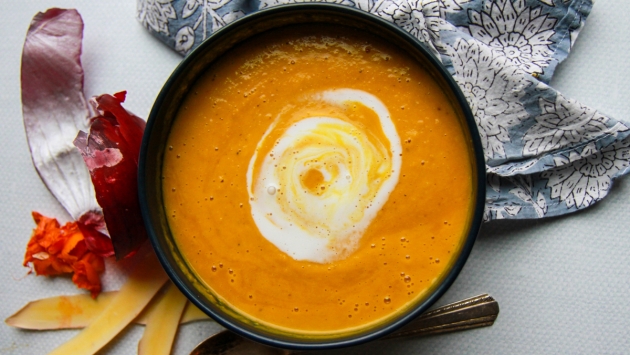 Ingredients:
6 cups cubed and peeled butternut squash
red onion, roughly cubed
6 garlic cloves, unpeeled
3 tablespoons olive oil, divided
1 teaspoon salt, more to taste
1/2 teaspoon black pepper, more to taste
1-inch cube of ginger, peeled and chopped
1 teaspoon ground turmeric
1/2 teaspoon chili flakes (optional)
4 cups vegetable or chicken stock or water
1 14-ounce canned white beans (Navy or Cannellini), drained and rinsed
Optional garnishes: a drizzle of olive oil or heavy cream; a dollop of Greek yogurt or coconut cream
Directions:
Preheat oven to 375°F. Line a rimmed cookie sheet with parchment paper. Place squash, onion, and garlic cloves on a cookie sheet, and drizzle with two tablespoons of olive oil, salt, and pepper. Roast for 45 minutes until the squash is tender and starts to caramelize, flipping the vegetables halfway through.
Once the garlic cloves have cooled enough to handle, peel them and discard the skins.
In a large stock pot, heat the remaining olive oil over medium heat and sauté the chopped ginger for a few minutes. Add the turmeric and optional chili flakes and sauté another minute. Add the roasted squash and onion and peeled garlic, beans, and stock. Bring to a simmer and cook for 15 minutes.
Turn off the heat. If you have an immersion blender, blend the soup right in the stock pot. Alternatively, blend in batches in a blender. Taste for salt and pepper and adjust if needed.
Serve with optional garnishes and enjoy!