This holiday season, help our market gleaning partners feed those in need! The FRESH Food Drive ensures that our vulnerable neighbors have access to fresh, wholesome food this Thanksgiving.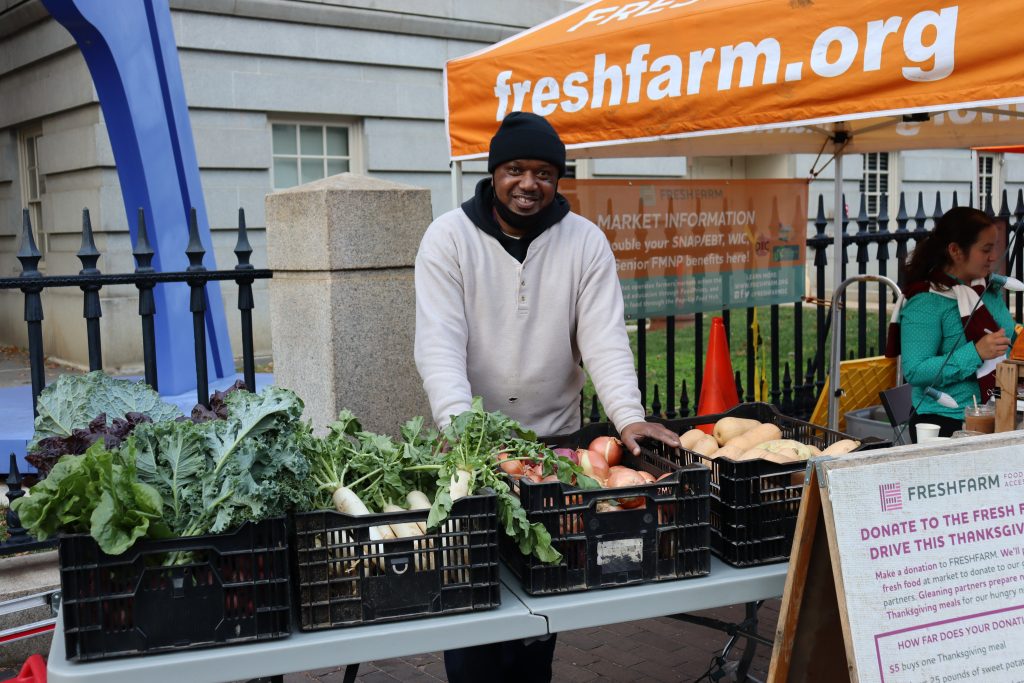 Since 2010 we've hosted Thanksgiving Fresh Food Drives at our markets. Throughout November, we raise money from shoppers and community members to purchase fresh fruits, vegetables, and turkeys from our local farmers at market. This fresh market food is then given to the food recovery and emergency food assistance partner at each market and used to prepare Thanksgiving baskets or meals for neighbors in need. Here's how it works:
During the month of November, community members make donations to FRESHFARM at the market information tent at ANY market location, or online.
The week before Thanksgiving, FRESHFARM purchases fresh food at market and donates it to our food recovery and emergency food assistance partners.
Partners prepare Thanksgiving meals for our hungry neighbors, using fresh food from the market.
Our small farmers earn additional revenue as they head into the winter season.
2023 Food Recovery Partners
Arlington Food Assistance Center (AFAC)
Since 1988, AFAC, the Arlington Food Assistance Center, has been dedicated to the simple but critical mission of obtaining and distributing groceries, directly and free of charge, to people living in Arlington, Virginia, who cannot afford to purchase enough food to meet their basic needs.
Gleaning at Arlington
DC Central Kitchen
DC Central Kitchen (DCCK) is an iconic nonprofit and social enterprise that combats hunger and poverty through job training and job creation. The organization provides hands-on culinary job training for individuals facing high barriers to employment while creating living-wage jobs and bringing nutritious, dignified food where it is most needed.
Gleaning at Dupont Circle
Dreamers and Achievers
Dreamers and Achievers serves as a drop-in center where people can come throughout the day for support and resources. Their staff supports community members dealing with mental health disorders and substance use/misuse disorders, and are dedicated to uplifting the DC community. Their dream is to improve the quality of life in the community for people affected by mental health disorders and substance misuse.
Gleaning at Simon Elementary
First Church-Christ Holiness
First Church is a DC-based church community that has partnered with FRESHFARM since our very first Fresh Food Drive over a decade ago. Every year, they collect food from markets to provide Thanksgiving Day gift baskets with turkeys and vegetables to families in need.
Gleaning at H Street NE
Food For Others
Since 1995, Food for Others has been helping families in the capital area who are struggling to make ends meet. Food for Others is an important part of Northern Virginia's safety net for those needing food when an emergency strikes and for the growing number of working poor who need to supplement their inadequate food supplies.
Gleaning at Oakton

Food Rescue US – DC
Food Rescue US is a national gleaning organization, committed to reducing food waste and food insecurity in America. Using their web-based app, they engage volunteers to transfer excess fresh food from grocers, restaurants, and other sources, to social service agencies that feed people who are food insecure. Check out this great video from 2021 highlighting the gleaning efforts of the DC chapter of Food Rescue US at the Dupont market, to benefit organizations like DC Central Kitchen and other local nonprofits.
Gleaning at Dupont, Mosaic, Mount Vernon Triangle, and Reston
Miriam's Kitchen
The Miriam's Kitchen team utilizes a comprehensive approach to eliminating the housing crisis in Washington, DC. Through engaging guests with healthy, made-from-scratch meals, Miriam's Kitchen connects them with personalized social services that assist them with rebuilding their lives.
Gleaning at Foggy Bottom
Shepherd's Table
Shepherd's Table works to improve quality of life, create a pathway towards self-sufficiency, and inspire hope for the most vulnerable experiencing food insecurity, homelessness, and poverty. Based in Silver Spring, they welcome all to their community table for meals and access to social services, provided with compassion and respect.
Gleaning at Downtown Silver Spring
St. Anthony of Padua Catholic Church
St. Anthony of Padua Parish is located in the Brookland area of Northeast Washington, DC, representing a deeply diverse Catholic Community. They celebrate a rich community life based on openness, unity, and love and work in service to the poor.
Gleaning at Monroe Street
Ward 1 Mutual Aid
Ward 1 Mutual Aid is a grassroots community-led effort helping to take care of members of the community and keep Washington, DC as safe as possible. They are part of the DC Mutual Aid Network and were born in the midst of the pandemic in spring 2020. They support multiple weekly food and supply distribution tables throughout Ward 1 to help neighbors meet their needs.
Gleaning at Columbia Heights (Sat.) 
Ward 5 Mutual Aid
Ward 5 Mutual Aid is an all-volunteer, grassroots group of Ward 5 residents dedicated to supporting neighbors. They provide information, resources, direct support, and advocate for the safety and well-being of Ward 5 residents, particularly those most targeted by state violence and neglect. Their efforts are in alignment and collaboration with the citywide DC Mutual Aid Network.
Gleaning at Monroe Street
+One
+One builds networks that rescue perfectly edible food from being discarded and redirect it to individuals and families. They are on a mission to eliminate hunger by eliminating the pervasive gap between food waste and communities in need of food.
Gleaning at Dupont Circle