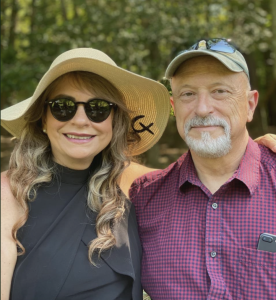 Chris McCausland traveled and lived in various Latin American countries for his government job. Twenty-nine years ago, he met his wife, Janina, and stepson, Hector, in Panama. Through them, Chris discovered the world-renowned coffee-growing region around the Barú Volcan. His love and fascination for coffee continued to grow. With the help of his wife's family, he began to search for a coffee farm to call their own, and by 1998, following the birth of two of their three daughters, the McCauslands purchased and planted a farm.
After living in South America, Mexico, and Key West, Florida, the family finally settled in Alexandria, Virginia. It was then that Chris and Janina opened a brick-and-mortar micro-roastery and shop for Via Volcán in the Old Town neighborhood of Alexandria.
Via Volcán is an exquisite, single-origin coffee grown on their family farm, on the slopes of the Barú Volcan in the province of Chiriquí, Panamá. Their coffee is produced through careful cultivation of top-quality Arabica trees in ideal soil, altitude, and micro-climate conditions. The coffee beans are selectively harvested by hand, sun-dried, and sent to a micro-roastery in Northern Virginia for careful roasting in small batches to bring out an exquisite flavor profile.