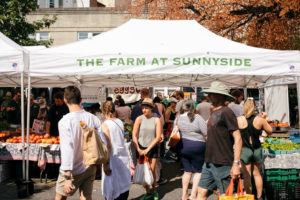 Located 70 miles west of Washington, D.C. in Rappahannock County, Virginia, The Farm At Sunnyside grows certified organic fruits and vegetables for sale locally. Farmers Stacey Carlberg and Casey Gustowarow carefully manage the land to promote soil health, biodiversity, and balanced, resilient ecosystems.
Their commitment to organic production means that you won't find toxic chemical residues in their soil and water nor in the food they ultimately grow. Sunnyside takes additional steps to restore habitat for native wildlife, including the pollinators that help make it possible to grow a wide diversity of produce.
The approximately 12 acre farm, 8 acre orchard, and 40 surrounding acres of undeveloped property are protected by a conservation easement. This ensures that this land will never be developed, and the Sunnyside team continues to search for ways to reduce energy consumption and diminish their carbon footprint.