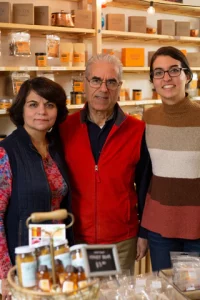 Shafa Blends is a woman-owned, family-run tea and spice shop. The family behind Shafa Blends sells hand-crafted artisan tea, spice, herb, and salt blends in small batches. Shafa Blends means "healing" in Farsi and Arabic, which is the focus of the tea and spice blends from Shafa Blends.
Shafa Blends originally started out in 2015, offering specialty teas, spices, and blends in Bethesda, Maryland. Over time, they noticed that their signature blends were becoming more popular, so in 2017 they decided to pivot their offerings and focus on developing specialty, hand-crafted tea and spice blends produced in small batches. They opened a new shop Gaithersburg, Maryland, then expanded to a brick-and-mortar in Rockville, Maryland. They now sell their blends online, in-store, wholesale, and at local farmers markets.
Their mission is to encourage those who strive to live a healthy life and who are motivated to create it for themselves. Every conversation, every creation, and every element of nature is an important component of what Shafa Blends has been shaped to be.