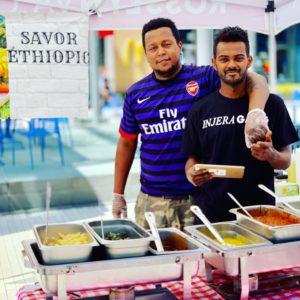 Savor Ethiopic is inspired by the confluence of Chef Yonathan (Yonni) Hailemichael's childhood experience and expertise in fine dining. Native to Ethiopia, Chef Yonni's daily experience included shopping at the open markets, or guleet, and preparing organic meals with his mother.
After training at the New England Culinary Institute, Chef Yonni spent years in practice at several local hot spots, including The Inn at Little Washington, a three-Michelin star restaurant. His love for creation led him to Seylou Bakery under Jonathan Bethany's tutelage to explore the world of grains and bread-building.
Coming full circle, Chef Yonni's meals at Savor Ethiopic offer a balanced blend of both worlds. The food is prepared and cooked in the ancient Ethiopian style with Chef Yonni's modern twist. Enjoy seasonal varieties, sourced locally, and grains such as teff and sorghum, to make injera, the foundation of Ethiopian cuisine.