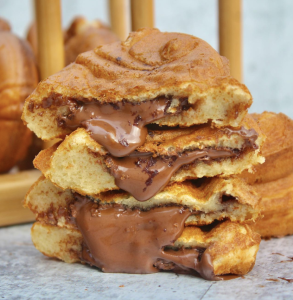 Rice Culture is an Asian-owned and women-owned DMV-based dessert shop specializing in Taiyakis, a popular winter street food originating from Japan. What's a Taiyaki? Simply put, it's a fish-shaped waffle that is cooked on a hot grill fresh in front of customers and stuffed with various fillings, such as Vanilla Custard, Ube Jam, or Nutella!
Owners Mikki and Kevin are the two minds behind Rice Culture, with Mikki running as the Head Baker and Marketing Manager and Kevin as Head of Operations. From their humble beginnings cooking Taiyakis out of their one-bedroom apartment, they've since moved to a commissary kitchen where they've expanded operations to local farmers markets, nationwide shipping, and offer a larger menu of rice-based desserts that proudly represent their Filipino/Taiwanese/Japanese background.
Each day, the two of them immerse themselves deeply into the day-to-day operations with one goal in mind: to curate delicious treats that tell a story about their Asian culture and celebrate their traditions.