products
Beer, Wine & Spirits
CLICK HERE TO ORDER ONLINE
Enjoy a complimentary bottle of hand sanitizer when you shop for pick-up in the Tasting Room!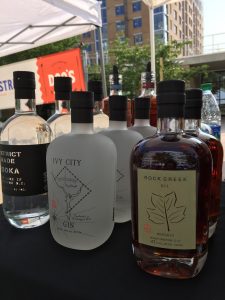 One Eight Distilling is named for Article One Section Eight of the Constitution, which among other things provided for the establishment of a district to serve as the nation's capital. This connection to history and tradition informs our founding values: we use local ingredients to create the bold flavors of our region for the people who take no shortcuts. Their choice of rye not only creates a superior spirit, but it also celebrates a grain that has long been the cornerstone of agricultural traditions of the Mid-Atlantic, as well as the origins of vodka in Eastern Europe. One Eight continues this legacy by sourcing rye exclusively from Culpepper, Virginia, not far from the farms of George Washington, Thomas Jefferson and James Madison.