products
Pickles & Ferments
PRE-ORDER OR DELIVERY AVAILABLE
 Place pre-orders by 7am Friday (Saturday markets) & 7am Saturday (Sunday markets) for market pickup. Local delivery also available.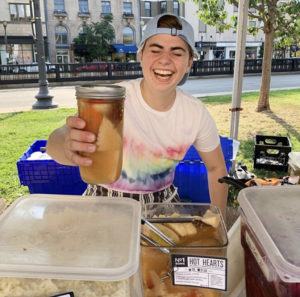 Growing up, Number 1 Mom made a home cooked dinner every night. Her meals always ended with a big salad and dinner had plenty of vegetables, often cooked with traditional Chinese fermented ingredients. Siblings and Number 1 Sons co-founders, Caitlin and Yi Wah, grew up always eating a lot of vegetables and have always loved funky, sour foods. Their mom taught them to cook good food with quality ingredients and to share it with our community, and they've taken a similar approach to making pickled and fermented foods. Starting with cucumber pickles in 2012, sauerkraut later that year, and kimchi the year after that, Number 1 Sons now offers a wide range, including kombucha, sweet pickles and hot sauce!

Number 1 Sons follows the season, buying vegetables directly from farms that we know and like – when they can no longer source pickling cucumbers, the pickle people switch to locally grown daikon radishes! Every fall, they make fermented Chili Bear hot sauce with hundreds of pounds of local chili peppers, and throughout the year, they source apple cider vinegar from a Virginia family producer who has been making vinegar for almost 100 years!