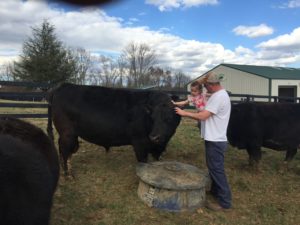 Harmony Hill Farm is located in Shenandoah Junction, WV. Originally established in1975 by Stephen and Virginia Gorman with goals of sustainably producted high quality good, Harmony Hill has strived to protect the land for future generations, with continual conservation efforts. Today, under the direction of Steve and Maggie Gorman, along with Chris and Heather Gorman, the farm continues to operate with the same principles of sustainability and environmental stewardship. "We are proud of our agricultural heritage and believe that there is no better of a calling than feeding one's fellow man", says the Gorman family.
Harmony Hill offers a wide variety of naturally grown, non-GMO, antibiotic and growth hormone free beef, pork, lamb, and egg products.The farm raises Black Angus beef cattle, Dorper Sheep, Heritage breed pigs, pasture raised poultry, pasture raised laying hens, in addition to an abundance of fresh produce. Their livestock is pasture-fed primarily, and they are committed to using no growth hormone or antibiotics. Harmon Hill uses only non-GMO feeds for any livestock that require grain to sustain themselves.
It is their strong belief that their shoppers eat no differently than their own family!