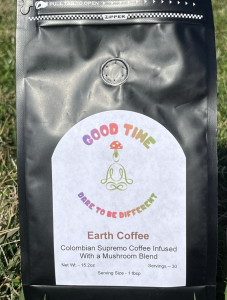 Good Time Health is just "a few dudes who were tired of the outdated coffee routine and sought to create a product that both brings people together and brings happiness to all." In their pursuit of finding a new morning ritual, they discovered the powerful benefits of a craft mushroom blend.
Their blends are associated with promoting brain health, increasing overall body recovery, reducing inflammation, and creating sustained long-term energy.
They mix their mushroom blend with premier coffee and tea to make your new morning ritual as easy and effective as possible and promote happiness and healthiness in every cup!  All you have to do is brew, sit back, and have a Good Time!