products
Soaps & Skincare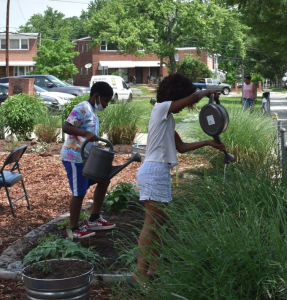 City Blossoms is a 501(c)3 nonprofit organization that cultivates the well-being of our communities through creative kid-driven gardens. Since 2008, City Blossoms has designed, developed, collaborated on, and provided programming or trainings for over 100 projects throughout Washington, DC and nationwide. Their work serves Latino, African-American, and immigrant children, ages 2-19. They work in neighborhoods where children and youth may not otherwise have access to safe, community-led green spaces.
Founded by native Washingtonians, Lola Bloom and Rebecca Lemos-Otero, City Blossoms originated to address the lack of access to nature experienced by many children in Washington, DC. With community input, Lola and Rebecca built green spaces that were free and safe places for children to explore the outdoors, express themselves, and cultivate their community. Today, these interactive gardens are learning and play areas that demonstrate concepts like pollination, water catchment, composting, community-created art, plant cycles, and edible organic gardening. Each year thousands of participants, from toddlers through teens, engage as cultivators using their creativity, intellect, and energy to shape their communities through fantastic and functional gardens.
A core program of City Blossoms is their youth-led business called Mighty Greens. Using the cooperative business model, participants combine elements of environmental and food justice with job readiness skills. Participants maintain garden spaces, make value-added products, and sell those products and produce back to their communities through seasonal CSAs and farmers markets.