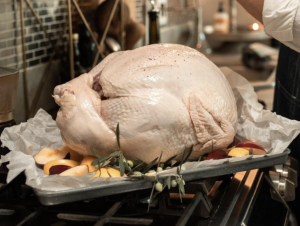 Jody, owner of B'More Urban Organic Poultry has been raising chickens ethically for meat since 2008. Their farm is located in Elkton, Maryland, where they raise local chickens for local markets. This Baltimore farmers market-based poultry farm produces organic chicken and turkeys for meat, hence their name "B'More".
Their birds are pasture-raised, which means they live their entire lives outdoors and on fresh grass, where they snack on bugs, seed pods, and grass. They are fed organic whole-grain feed, meaning they are fed grain prepared by Sporting Valley Feed in Manheim, Pennsylvania. It is not processed, and there are no steroids, pesticides, or herbicides used to grow the grain they eat.
B'More Urban Organic Poultry raises their birds sustainably, meaning they are raised inside hoop houses. Inside these hoop houses, the chickens are protected from the elements and also get plenty of sunlight and fresh air. Each day farmer Amos moves the chicken tractors to fresh grass.